Wayne Philogene
Badminton Coach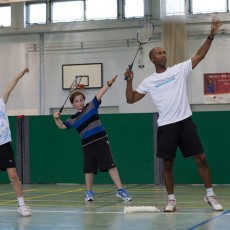 Wayne is the lead coach for the Sports Club Badminton Courses.
Wayne also runs his own coaching company, organising tournaments and holidays courses.
Professional Badminton coaching is available for adults and children.
A single 1 hour session costs £25 (plus the £5 court costs)
A block of six 1 hour sessions gets the 7th hour for free (plus the £5 court cost for each session). Block bookings must be paid in advance in full.
A coaching session at this price can include a partner/friend who will attend all sessions involved. Other options can be discussed.