Robert Harding
Swimming, Trampoline, Gymnastics, Waterski and Wakeboard Instructor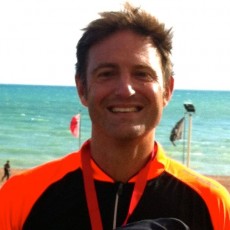 British Swimming Level 2 Swimming Teacher
I have 32 years of swim teaching experience and have always loved seeing children and adults happiness as they improve.
My vision was to help as many people as possible learn to swim or improve their swimming and achieve their targets.
I specialised in my younger years in helping people who are terrified of the water but helping swimmers of all levels gives me the same sense of achievement.  Through the years I have taught beginners right through to competition and channel swimmers.
I managed the Alleyns Sports Club Swimming Lessons Programme for 12 years 1993-2015 comprising. 130 swimmers and worked concurrently within the PE Department of the school.
Due to my background in Sports and Remedial Massage Therapy, I approach everything from an injury prevention and best practice view point, and the two offerings commonly overlap, as clients want to know why they are getting injured, and how to change their strokes, training regimes and diet  to improve things.
I provide group and 1:1 coaching.
Below are my additional services:
Sports and Remedial Massage Therapist (SRMT Dip. M.ISRM)
BAGA Trampoline Instructor (Level 1)
BAGA Gymnastics Club Coach (Level 5)
British Waterski Instructor
Please feel free to call for a chat or email to see if I can provide what you are looking for.