Paula Thomas
Cycling Team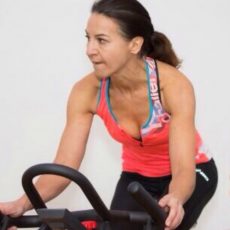 Paula originally qualified to lead indoor cycling via Les Mills (RPM) in Dubai and now teaches her own advanced level freelance classes.
She also is a fully certified Stott Pilates instructor.
Back in 2012 (at the tender age of 45) she ran her first half marathon and within a month she did her first triathlon, both in the UAE.
This Parisienne is well travelled, having also lived in South East Asia but has been calling London home for almost 30 years.
A true believer in Mind over Body, Paula prides herself in building a rapport with all of her class members, normally equally males & females who have reached an advanced level.
Her classes focus in on technique and muscle awareness. Prepare to work hard and be continually challenged by her contagious energy.