Freedom Football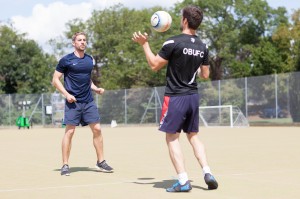 Football Freedom (FF) enables Football lovers to take part in friendly matches, without the stress of arranging and running your own team. Just turn up on Monday evening and join in. And it's open to members and non-members.
Venue: Astro 1
Day: Every Monday (Excluding Public Holidays)
Time: 7-9pm
Price £3 (members) £5 (non-members)
Regular attenders may prefer to pay monthly by Direct Debit  – members £9.00, non-members £15.
This DD can be cancelled with only 1 month notice in writing.
There is no joining fee, so there is absolutely nothing to lose by becoming an FF member.
For more details contact Gary at sharpeg@dulwich.org.uk